The playing field is changing with a new level of generic rank 4s (2 level 4 monsters of no specifications) coming yet again. Let's take it from the beginning, because I like long stories.
Once upon a time, xyz came. And when we looked at the rank 4 generics, we knew: they were 'meh'. That was not weird or bad. They could not compare to synchros but in comparison they were ridiculously easy to summon as they did not require a special sub-type of monsters, like synchros did. Your 2 gadgets could now become a 2500 beater by themselves, that's just great. Notable non-beater card at the time was Steelswarm Roach, a card which was supposed to be the final nail on the coffin of synchros. It wasn't really, since the banlist and the overwelming new strategies were done with that coffin before roach could have any say on the matter. But when the dragons rose, it was there, Roach shone as an excelent toolbox card, which could win a game.
The next level of the rank 4 generic revolution came with Daigusto Emeral and Lavalval Chain. Both non-beaters, with 1800 attack, not coming close to the ever splasahble mediocre Utopia. But both with potentially game changing effects. And they were in a way, decks rose because of them. With lavalval chain for the first time any 2 level 4 monsters could allow you to mill not just any monster, but any card (gem-knight players know the significance of that), as well as allowing you to pseudo-search ANY monster, and that includes something like your boss Blackluster for example. Emeral on the other hand had something more direct and at the same time more gimmicky. For the first time, your generic rank 4 could give you an instant +1, and in the form of a draw no less. At the same time it allowed you to recycle important cards in your graveyard, which in turn brought up things like a new infernity combo, and may have allowed, or will allow other things to abuse it in the future. DN wind-ups for one were happy to have it before the banlist, and it still can do work with them.
Slowly but notably after that we got 3 more significant cards in the generic rank 4 family.
Maestroke the Symphony Djinn let you turn a monster your opponent has face down, allowing now your 2 level 4s to get over a monster that is weak on the defensive side, like Dark Armed Dragon, or even something more complicated like severing an effect link or allowing a monster to now be destroyed by a card effect. Not exactly a book of moon, since the strength of that card is in its chainability, but a card that can pull some of its gimmicks. At the same time, even though a 1800 ATK isn't that much, it could dodge destruction, giving you for the first time a durable generic rank 4 that was even possible to beat Bottomless Trap Hole, Torrential Tribute and Mirror Force, if you read them, which was even more durable in defense with its 2300 DEF stat.
Photon Papilloperative now allowed you to break stall with two level 4s. You could not just get game with its attack, but also beat that annoying reaper with just its effect, giving stun decks an out to that. In addition it allowed you to trigger your own flip effects as well as do shennanigans like that of wind-ups, as of late.
Number 50: Black Corn is similar, as it too can break stall. It fills other spots however. It sends to the graveyard a monster with equal or less attack to itself. That means Zenmaines and Gachi Gachi Gantetsu, which could survive a single Papilloperative, are no longer safe, recruiters will no longer get their "destroyed by battle" effects, etc. (marshmallon can no longer Honest your Papilloperative!). It may be unable to attack, but it burns which in some cases is better. Unfortunatelly, it's effect and restriction combined means it cannot break face-down stall by itself, since it cannot read the attack to destroy while face-down and it cannot attack to reveal it if it wishes to use the effect.
With those two combined, we saw some of the last stall remaining in the banlist, marshmallon and reaper, go unlimited, since now it was easy to beat them with the 2 game changing, in a way, stall breakers.
The most recent of the game changing Xyz was Gagaga Cowboy (I like gunman more... at least he kept his guns I guess). It's two effects were both excelent for toolboxing. The attack position effect allowed you now to reach the 3k threshold with your generic rank 4, allowing you to finally beat Black Luster Soldier, among others, with just 2 rank 4 monsters, which means a lot (or would mean a lot if the current metagame had anything to do with rank 4 generics, but if you can summon a rank 4 now, you can probably summon a rank 5, or a specific like a warrior or something).
The other effect gives burn for some much needed in toolboxing endgame damage, also opening gimmicky OTKs since your xyz can now finally burn properly.
And that brings us to the latest 3 game changing Xyz and the purpose of this article.
First one, from our side of the yugioz, the TCG exclusive, Abyss Dweller.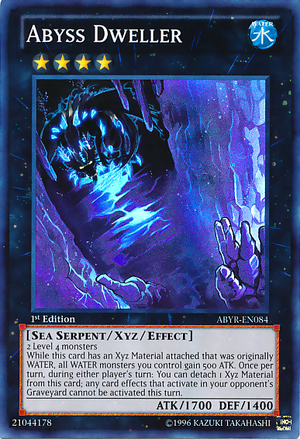 Now your 2 level 4s can counter and semi-lock down atlanteans-mermails and dark worlds (and if one of those level 4s is Tin Goldfish, they can counter them even better), among others. It has a massive drawback even though its chainable. It prevents activations, which means it can do nothing when chained to an activation. Considering you have to detach one of your only two xyz materials to get that effect for the turn, under normal circumstances your opponent could just wait out the 2 turns where you'd activate the effect pre-emptively and hold on to his combos in the meanwhile. However that does not apply to the mentioned 2 decks.
Dark Worlds need to activate a spell card or an effect to actually get their monsters in the graveyard in order to trigger them, and the graveyard effect will only activate after the current chain resolves. That means Abyss Dweller can simply be chained to a Dark World Dealings for example, forcing the Dark World Player to not get an effect for whatever they choose to discard.
In the Mermail deck on the other hand, Atlanteans get their effects when sent to the graveyard as a cost, which not only means they activate in a different chain like dark worlds, but you also get to see what they are trying to activate (while a dark world player could just end up discarding something else entirelly and hold on to their play). Their Sphere-Abysslinde play is also disrupted since you can just activate the effect in response to the summon of Abysslinde. Sphere can just be used to get something that will run over your dweller, but they may be forced to just waste their sphere that way, and therefore their play.
Next huge card is Diawolf the Terrorfang (could mean Dire Wolf instead).
Stands at an ok 2000 ATK, it can destroy 1 Beast, Beast-Warrior or Winged-Beast monster you control (something with beast in its type anyways, inb4divinebeast) to destroy 1 card on the field. The card itself is a Beast-Type.
Now your 2 level 4s can be used to destroy ANY card in the field. That, is huge. Generic rank 4 field removal (not just of your opponent's cards, if you want to get too gimmicky with random otk combos shennanigan stuff). Before there were things you could not get over with just your 2 level 4, very often there was that annoying continuous card stopping your stun deck or that huge thing you could not get over. Now you can use your 2 level 4s to destroy anything, rank 4 needed that. In addition to that, you don't have to destroy itself if you have another beast-somethingornot on the field to use. Might not mean something to most decks, but things like the new firestars could certainly make something out of it, destroying that darksoul to destroy that other card is nice, etc. etc. Great thing overall.
Last and not yet released on DN is Number 106: Huge Rock Palm, Giant Hand
I'll assume you don't read extremely small japanese:
Level 4 Monsters x2
When an effect monster your opponent controls activates its effect: remove 2 Xyz from this card, target 1 effect monster on your opponent's field; As long as this card stays on the field, the targeted monster loses its effect and cannot change its position. This effect can be used during opponent's turn.
2000/2000
That is a generic rank 4 negator. As simple as it is great. Now you can stop a wind-up play, an inzektor play, etc. which you could not do before with generics. Unfortunatelly, because of its restriction of only being able to be used in chain to an effect (as the translation suggests) and not negating that effect but the monsters effects instead, it means it won't work against monsters that leave the field as a cost, and of course it won't negate effects that activate off the field. Still, that is deck specific, it means it works against some decks and not against others, but when it works, for example against wind-ups, it works.
With the rank 4 arsenal out now, rank 4 toolbox control decks should be live, or at least close to. We already have theme/attribute/type specifics out there, but with the ability to use any kind of rank 4 toolbox (141 of course always, at least) the possibilities are interesting. Certainly though, many decks are slowly getting options with a good impact, which will in turn impact on the metagame in some way. Oh, and they look cool. I didn't expect any better from the TCG, but the 2 new OCG ones look great.