Screenshots. Screenshots everywhere
Introducing Sin Kiske, Son of Ky and Dizzy
Remember this guy? Of course you don't! None of you have played Guilty Gear 2: Overture, well, except for both Ali and EW maybe, but that's beyond the point.
And it's just as written above. He's the son of the famed Ky Kiske and Dizzy. Boy, wonder what drove Dizzy to have the hots for Kiske. Hang on, wouldn't Dizzy be somehow underage, even as a mother? I'm assuming 5, or 6. But anyhow, our big boy is finally going to join the cavalry as his own fighting game character. I guess we saw that coming somehow, seeing as he already appeared in one of the screenshots for the game (although I didn't point out that it was Sin, seeing as I haven't played Guilty Gear yet and plan on starting with the Xrd installment).
Now for how he fights, apparently he's using a signature flag of some sorts to carry out his melee needs. It also seems like he'll be able to do specials a whole lot more easier than the other fighters too (sounds like a guy up your alley, Ali. Haha. Alley, Ali, yeah I'm gone), at the cost of a hunger meter which will reduce his fighting capabilities if it runs out. He'll need to eat mid-combat for his bar to replenish itself again. Oh, and his attacks seem to have a good chunk of range too. He'll also have a couple of Ky's move in addition to his own.
Have some screenshots.
Source from Siliconera.
A look at Dengeki Bunko's Story Mode
Yeah. That's all you're getting out of me today for Dengeki. I know there's a special topic for Dengeki stuff, but I'm too lazy to dig it out right now, so have some Dengeki along with the rest of my FGN article for the day (Danna would have killed me if he were still around).
About the screenshot, people have been complaining about showing a screenshot of Kirino and not of someone else. I guess the developers have a taste of their own? Anyhow, it looks like style-contradicting chat sprites are a thing in this game
Also, I don't know why, but this smirk REALLY ticks me off, and I for one don't dislike Kirino (I dislike Kyosuke).
Source from Gematsu.
That's all for the day folks. It's still early, so if I catch wind of something else, I'll be sure to put it in here.
EDIT: That is not all for the day. Apparently, Atlus had an announcement to make. You know what? Forget about all the new characters, forget about the new modes, forget about the new Shadow character. This, which I am about to say right now, is ten times more important. Honestly.
If you haven't seen it already, this is the box art of the game in Japan.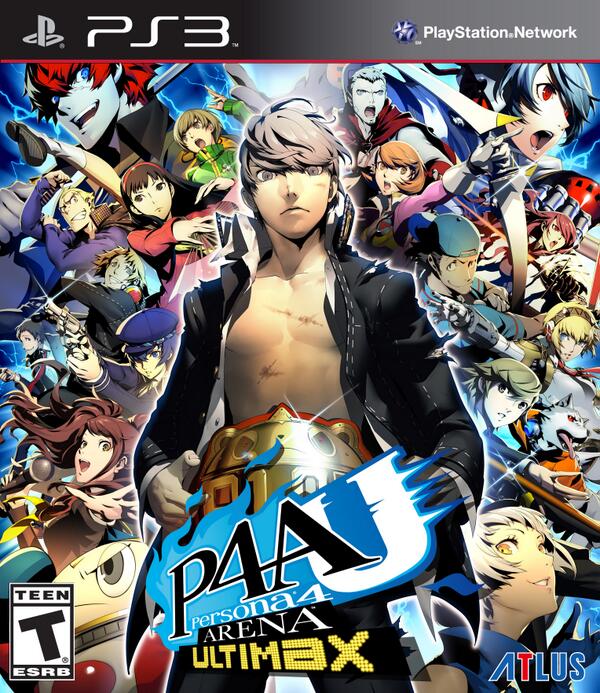 And here it is again for the American release. I'm glad Atlus decided not to change the box art. Here's to hoping that Europe gets the same box art too. By the way, the same box art goes for the Xbox 360 version of the game, in case you were wondering.
But no. That still isn't the surprise, I was only filling in with that box art to hide the announcement. Are you ready? Here it goes:
Atlus confirmed that Persona 4 Arena Ultimax will not be region-locked
HALLELUJAH! TOSS THE CONFETTI! BANG THE DRUMS! THIS IS A MIRACLE! HALLELUJAH!
Yeah, it's that big of a deal. No matter how great the games that Atlus make, they always, and I do mean ALWAYS, find a way to screw over many avid fanatics with their stupid region locks. And this hurts the European fans the most too. But oh well. Persona 4 Arena Ultimax is now region free, and that's all that matters. Here's the tweet from Atlus USA itself.
I honestly had a stressful day, but man oh man, does this make up for all that. Anyhow, that's all for today, this time for reals. If there's anything else, I'll make a new FGN topic for it tomorrow.