Spoiler: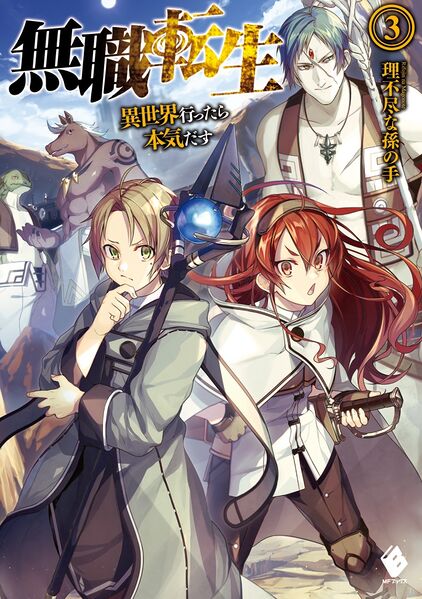 Would have used vol 1 cover, but Paul's face there always creeps me out, and early Dead End is relevant to the post
IT'S OVER!!!
It's been quite a long time, but with Kaezar's dump of the extra chapters today, Mushoku Tensei is finally concluded in the english language as well.
I don't really feel bad about the fact itself. I've called it "Anti-climax, The WN" multiple times (not exactly in that name, but close stuff), so I'm kinda glad in that sense that it finally concluded and did not deteriorate the pace further. But while verbalizing my thoughts, it starts feeling kinda weird. I initially wrote "the pace did not slow down any further" or something but deleted it, because in the end, we were skipping time a bit too fast. On the other hand, the pace did feel slow in a way because the changes even in timeskip time did not seem that meaningful. It's either a literary thing or a me-being-stupid thing, not sure.
But what I'm getting at is, that even though it ended through the "not anticlimactic yet not fully climactic therefore lukewarmishlyclimactic" decisive battle chapter, I'm quite satisfied with it, satisfied with the ending and satisfied with the whole story, and can look back on it saying it was something good, even though feeling that way can also be attributed to wrong reasons, which is quite a mystery.
So all in all, it was fun, fun premise, fun seeing Rudy grow (or did he?), fun stuff happening, fun worldbuilding, etc. Plenty of expectations may have been betrayed along the way, but that's fun complaining about as well.
I don't want to drag this out too long, so without further ado, let's get into the
"Mushoku Tensei Highlights!!"
(SPOILERS AHEAD)(NOT LIKE YOU CARE BUT STILL, SPOILERS AHEAD)
(oh, and list is personal opinion blah blah blah)
I have to say that even now, at the end, the biggest highlight of the entire series for me was the old man. All of it, from the moment they met at Turning Point 4 to finishing the diary. There was no higher impact in the series, it was the big payoff of the Hitogami plot point and it was great, one of those points where after reading you'd go "fuck... that's... hnng... damn... fuck..." or something, iunno how you deal with your books, I'm not you. It also helped that it came after the highly emotional vol 15 (at least the beginning of it), and tied to the also emotional vol 13, stuff which I'll mention in a bit. And yet, after all is said and done, Rudy did not say anything to the old man's grave once. He buried him next to Paul but he would only talk to Paul every time and in the end he would even talk to Gisu. We didn't even care that much about Paul that many volumes in. Sure, back at mid 10 vols ok, but in the 20s, not really. Old man though, that could have some emotional payoff, after all he did too. Rudy really did turn ungrateful. Sasuga anti-climax wn.
Obligatory Fanart:
Of course, in 23 volumes, there were more than a few chapters worthy of mention.
I feel the entire Dead End adventures should count as a highlight, it had the best dynamic in the story in my opinion. After teleports and harems happened his bonds started getting a bit ADHD with him being all over the place. Dead End on the other hand had a great balance between development and being grounded.
I'd say those are the top 3 things that affected your view of Mushoku Tensei:
The start, with his infancy and stuff, which in turn became a template for a bunch of reincarnation stories, is the premise that made you pick it up.
Old man part was where in a story you already were commited to reading, you got invested.
Dead End itself is the part that keeps you in the story imo, thanks to things actually happening, it got a lot more fun and interesting at that point.
Everything from teleportation to reaching Fittoa should be a highlight in its own way.
What I consider the second most impactful event (second after turning point 4, dead end is not an event), and this is where my opinion would probably conflict with others the most, is Nanahoshi's disease and her situation in vol15, in particular chapters 146 and 147 (the food part is important too, ok?!). She had the most human and tangible interractions with Rudeus throughout the story, but in particular her 147 outburst makes her probably the most human non-Rudy character, though I guess everyone else is an otherworlder so that maybe makes sense? It's also one of the few times when Rudy actually decides to do something and actually sets out to accomplish what he went out to do and actually manages to accomplish what he set out to accomplish (though you can throw in a bit of anti-climax there for good meassure, because moosokoo). It can be easily overshadowed by the end of the volume, that being the afforementioned turning point 4, and when you consider that it is kinda sandwiched between that (vol 16 as well) and vol 13's moments, but it still is my second best MT moment.
I know I mentioned Dead End adventures already, but within there, we have two moments that deviate from the whole Dead End atmosphere and are highlights in their own rights.
An obvious one is the first Orsted meeting. Things were slowing down, something was being foreshadowed but you weren't sure what, and then bam, action and plot injection out of nowhere (literally passed it by in the street). Pretty tense moments and very engaging. It should be mentioned that Rudy was kinda reaching out to restoration magic back there but he got anti-climaxed like always. And the event had the unfortunate side-effect of making Rudy a massive wuss (more than he already was), which stuck with him for the rest of the series.
The other one, is another emotional moment, that being his reunion with Paul. It was a good payoff of their strained relationship with Paul reaching the boiling point after his efforts to find his family bear no fruits, and Rudy reaching his boiling point with trying to survive through the Demon Continent, being practically abandoned by Paul in the first place, and then being accused by that Paul that he was just fucking around. Now that I think about it again, I am reminded: fuck Paul.
Speaking of "fuck Paul", that whole thing really did kinda hurt him in my eyes as a character, added to his other shortcomings, including the ones demonstrated right in
that
volume itself, but still, even if the impact was not 100%, it still was high enough to be a highlight, so vol13 and the teleportation labyrinth.
And it wasn't just the Paul thing. It was Rudy once again doing something, it was Roxy, it was the general action and things being done, it was the family pieces collection RPG subquest coming to a close, it was the prices it involved, and how it tied to the overarching plot point and turning point 4. Again, the conclusion of Paul's story was impactful, the parental love thing was impactful, it just didn't work as intented in my opinion. But it still worked to a satisfying extend. And again, there were fun dynamics all around.
Last but not least (I think, not entirelly sure. Probably isn't, fun stuff, better than Ariel's) vol16 and Quagmire vs Orsted. That one had both. Both the emotional distress of Rudy as a result of diaries and human gods and stuffs, and combat itself escalating to max levels with the Orsted battle. And of course a great turbulence in the waifu wars as well, with worst girl becoming best girl in the span of a single volume, and staying there.
Notable by its absence is vol23, the decisive battle chapter. It certainly had combat (though not without the occasional anti-climax or rudy-meh-ness moments), but emotionally Rudeus seemed to be taking everything in stride a bit too much. Even the dead end reunion that could have been huge did not feel as all that much. That could either be:
A) Just me
B) The general pace of the series up to that point having burned the reader out
C) The character showcase approach with just about everyone showing up to the party to make it look like a proper finalle
D) Again, people taking stuff in stride or pay-offs not being explored
Still, there was good action, and it does count as a decent climax in itself, so the reason it is not a highlight is, well, even though it is a decent climax, it is not a decent final climax of the whole story. If it were at another point, it would find its way up there, but as far as the ending is concerned, I feel I have to note how lacking it feels. It's like, irrelevant stuff are happening, they get a random report, go to the organized battlefield and battle it out. Even if Rudy is not the one supposed to finish things, even if the author believes that stuff just happen, even if the meaning is the anti-climax in itself (even though I feel all of the above are fundementally flawed concepts for a story), it still could have been handled better imo. Not for the fighting part itself, that was sufficient (not that it could not have been better, but it was sufficient), but the characters, the setting, etc.
As it is, it feels like it falls short, and thus is not really a highlight, just a mandatory ending piece.
That's all for now! Dunno if I have anything else.
Maybe the light novel will fix some stuff. It's like, we already have the web novel, so I'd like to see some proper editing and have a different version for the LN. Next volume is 7, which is right after Dead End, which as I said was a highlight, so this could be the time to see this. I used to dislike the TnY route of re-writing, but I wouldn't mind seeing extra work being put in now.
To conclude, Mushoku Tensei was a good story I am glad to have read. But after cherry picking all those moments, it feels like its potential was A LOT higher.